Asiasat 5
| | |
| --- | --- |
| Satelliet | Asiasat-5 |
| Transponder | C6V |
| Position | 100,5 graden oost |
| Frequency | 3860 MHz |
| Polarization | Vertical |
| Symbol Rate | 30.000 |
| FEC | 3/4 |
| MPEG2/SD | DVB S2 8PSK |
| V-Pid | 2077 |
| A-Pid | 3077 |
| VRT Radio 1 | 3087 |
EIRP
(dBW)
40
39
38
37
36
35
34
33
32
Minimum Size *
(cm)
243
(8 ft)
243
(8 ft)
274
(9 ft)
274
(9 ft)
305
(10 ft)
335
(11 ft)
365
(12 ft)
457
(15 ft)
488
(16 ft)
Some smaller dishes might give reception as well in combination with a sensitive  LNBF of 10K or 13K.
However the reception margin will be quite small in such a case.
Astra 1M
BVN is FTA available via de Astra 1M satellite:
Satellite:           Astra 1M
Position:           19.2° Oost
Transponder:    1.068
Frequency:       11778 MHz
Polarisation:     V
Modulation:     DVB S2 /QPSK
Symbol Rate:    29.500 Mbaud
FEC:                 9/10
Service ID:        5701
Video-Pid:        525
Audio-Pid:        122
VRT Radio1
Service ID         5702
Audio-Pid         101
Dish sizes for reception of the Astra 1M – Wide Beam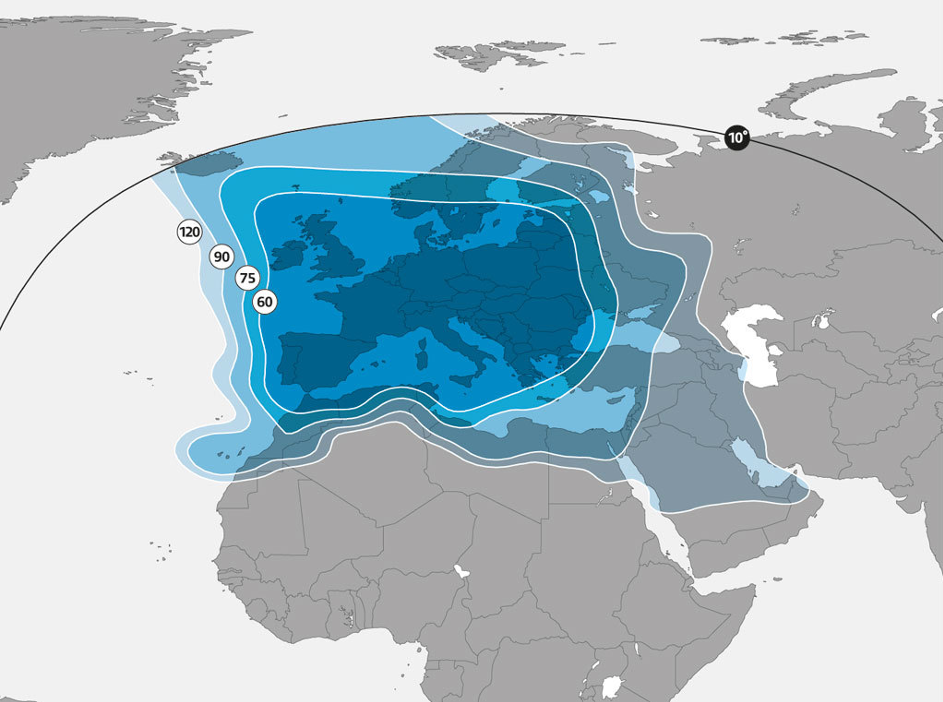 For the reception of BVN via de Astra 1M a satellite receiver with DVB S2 MPEG4 capability is necessary. HD or Full HD receivers have this capability.